Digital marketing is essential to scale up your business and reach a wider audience. You know that already!

However, determining the budget can be a daunting task even to this day and you may need some help from the experts.

So, here we are with a complete guide to help you decide a digital marketing budget.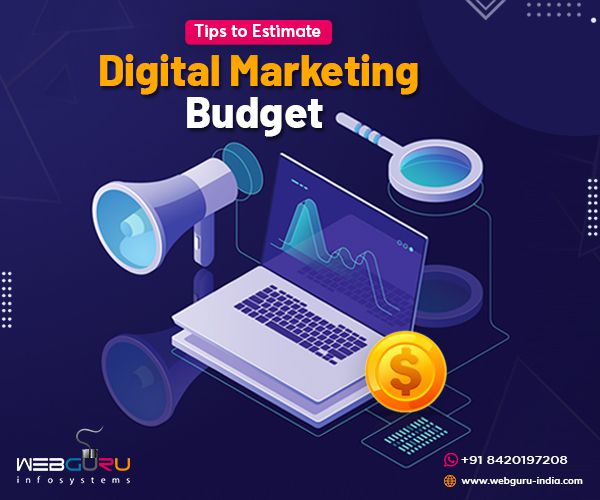 Factors Determining Your Marketing Budget
This is no brain-teaser. If you are new to the industry and just starting out, you may not have too much resource to invest in marketing. Again, if you are operating in the industry for a long time and own a large enterprise, you may want to invest a large share of your revenue to extend your marketing efforts on diverse channels.
Your objectives will directly influence your marketing efforts and thereby, the budget. For instance, if you want to drive organic traffic to your website through content marketing and improve your rank on the search engine, you have to invest in content marketing services.

On the other hand, if you want to focus on social media marketing, you need to spend accordingly.
Selecting the right marketing channel produces a significant impact on your marketing efforts. There are different marketing platforms including Facebook, LinkedIn, Twitter, Instagram, YouTube, Pinterest etc.

The first step to determine the right marketing channel is to analyse where your target audience is. For instance, if you own a fashion brand and most of your audience is on Facebook, you need not spend much LinkedIn marketing.

However, if you want to expand your audience, we recommend you to enhance your presence on different channels.
Important Things to Consider
You may wonder why this part is necessary for determining a marketing budget. Well, it is important for maximizing the return of your investment. Before allocating budget, you need to ensure that you ready with the strategies so as not to squander your resources.
The first step to making the most of your investment is to analyze the efforts you already made. Did you opt for marketing before this? Did you consult an agency or tried your hands to create campaigns? How successful were they? Or are you completely new to this field?

Measure all the metrics including email subscribers, retweets and leads generated. Also, conduct a thorough analysis of each stage of the marketing funnel. If something has worked well for you, find out why. If something went wrong, outline that too in order to avoid its repetition.
Allocating your budget wisely
The aforementioned step is important not only to create a powerful strategy but also to allocate money to different strategies on the basis of their efficacy. For instance, posting to any social media platform is free. But if you find that marketing through a specific channel (say, Facebook or LinkedIn) is working well for you, consider investing in professional social media marketing services for the channel and maximize the returns.

Further, make sure to set aside some of your budget for trying new strategies. Don't discard an idea before trying it out - that's the mantra for a successful marketing strategy. Keep 20-25% of your budget reserved for experimenting with new things.
Keeping Up with the Trends
Digital marketing trends are always changing. If you want to stay relevant in the industry and appeal to your target audience, it's important to integrate the latest trends into marketing efforts.

Before that, we recommend you to conduct a thorough competitor analysis. You need not always follow their footstep. And there's no guarantee that a strategy will work for you just because it worked for your competitor. But an understanding of your competitors' strategies will help you to beat them in the game.
Select the Right Marketing Company
If you want to make the most of your investment, you need to find the right company to partner with. Before selecting the providers of digital marketing services, make sure to check their experience. It's not wise to select a company just because it provides services at a low price. Opt for the one that provides a value-for-money service. Go through their case studies to know their performance for the earlier clients.
Consistency is the key to maximizing your digital marketing efforts. For instance, engaging SEO services can work wonder for leading organic traffic. However, without consistent efforts for months, you won't see visible results. Once your brand drives enough awareness, organic leads, and conversion, you may reduce your marketing efforts. But till then, you need to work on enhancing your online presence.

Estimating Real-Time Marketing Cost
Digital marketing has become highly customized these days. Personalize your marketing efforts based on the above-mentioned parameters. If you want to get an estimated idea about SEO, SMO, and PPC management, you can check this link. Note that the prices mentioned here are starting ranges. For more information, you can drop an enquiry and get a free quote for your specific project.

Found the article informative? Don't waste your time. Start your digital marketing efforts without any delay.